Theatre Studies Production
Cheap Seats Theatre presents our SSSC Yr 12 2023 Theatre Studies Production –
"The Real Inspector Hound" by Tom Stoppard
Critically acclaimed playwright Tom Stoppard's masterpiece "The Real Inspector Hound" is set to take centre stage in two upcoming performances produced by Swinburne Senior Secondary College. Presented by Cheap Seats Theatre, this hilarious play is a witty and clever deconstruction of the manor murder mystery genre.
Set in a country house manor, the play follows two theatre critics who find themselves caught up in the action of a whodunit play that they are reviewing. The boundaries between the play within the play and reality become blurred as the critics become more and more involved in the events on stage, leading to an unexpected and unforgettable climax.
This production of "The Real Inspector Hound" promises to be a standout performance, featuring directors, actors and designers from the 2023 Year 12 Theatre Studies class.
"The Real Inspector Hound" is a must-see for fans of Tom Stoppard and anyone who enjoys a good who dun-it murder mystery. Don't miss out on this exciting opportunity as there are only two performances in this year's play season.
The show will run from Wednesday, May 24 to Thursday, May 25 at The Cottage Theatre, 505 Burwood Road, Hawthorn – Swinburne Senior Secondary College, and tickets can be purchased online. Some tickets may be available for sale at the Box Office on the nights. Phone 8862 4400 on the day of the performance to confirm availability of seats.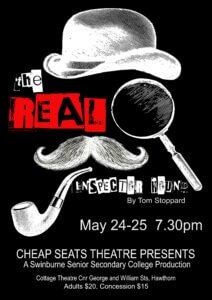 Book Tickets